GRANULATOR AND RECYCLING EQUIPMENT
FS Series Screenless Crusher
The crusher drives the rotary knife with high speed by the motor and go with fixed knife, using the gap between the rotary knife and the fixed knife to make an incision from crushing and shearing of regrind materials and then break the large regrind.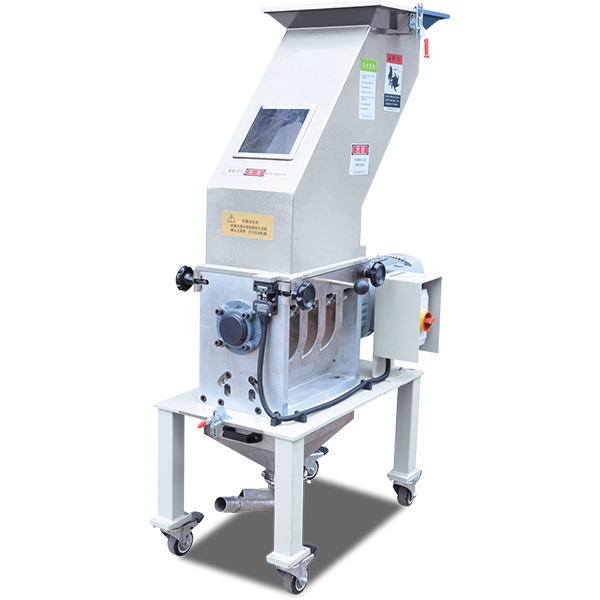 Features
Adopting foreign brand of speed reducer motor, stable performance and long service life
Adopting integrated design of the tooth cutter and the claw knife, and the coarse crushing and the fine crushing are carried out simultaneously, and the crushing is well mixed.
The new trapezoidal tooth cutter reduces the possibility of stress concentration and increases the bearing capacity.
Change the direction of the force, reduce the amount of force, and thus the tool life is longer
The motor and the main shaft are connected by a coupling to make the crushing run smoothly, and it is more convenient and quick to replace the motor.
The torque arm flange fixed speed reducer is used for stable operation and low noise.
The motor is automatically reversed and alarmed for the resistance, and then the blocked material is automatically reset.
Feeding hopper is made of double stainless steel to reduce noise
The feeding box is made of transparent PC, which is convenient to view.
Low power, high torque, slow speed, no overheating,long service life.
The screenless is designed to smash the particles evenly and the powder content is very small. Can be mixed with new materials immediately.
Unique design of the tool cutting not only reduce dust but also durable.
What do you think of our products? Welcome to contact us.
Contact Us