HEATING AND COOLING EQUIPMENT
FAC Series FAC Air-Cooled Chillers
The air-cooled chiller is mainly composed of compressor, condenser, filter, expansion valve, evaporator, air filter, blower. The liquid refrigerant enters the evaporator after being throttled by the expansion valve, where it evaporates and absorbs the heat of the cooled air, then inhaled by the compressor via the return pipe, superheated steam that is compressed to become high temperature and high pressure , cooled by outdoor air after entering the condenser, then delivered to the expansion valve through a dry filter, going to the next cycle. This continuous cycle will cool the room and maintain the proper air conditioning temperature.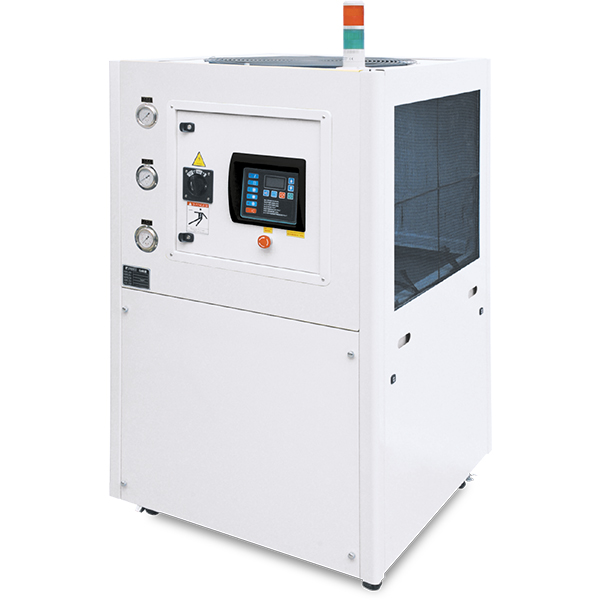 Features
Cooling temperature range 3-30°C.
Stainless steel insulated water tank.
Anti-icing protection device.
Using R22 insulation refrigerant, the refrigeration effect is good.
Compressor and pump with overload protection.
High precision controller with display accuracy of ±0.1°C.
Adopt brand compressor, low noise, high energy efficiency and long service life.
High efficiency purple copper string with aluminum wings + low noise of shaft fan condenser has good heat transfer effect, and it does not need to provide cooling water for fast heat dissipation.
Equipped with a hot air bypass valve to balance the cooling capacity and achieve precise temperature control.
Wire-operated can separate the main machine from the controller.
waterproof level : IP54
Equipped with RS485 communication interface for centralized monitoring and computer networking.
What do you think of our products? Welcome to contact us.
Contact Us