GRANULATOR AND RECYCLING EQUIPMENT
FC Series Sound Proof Crushers
When the crusher is in production, the motor drives the spindle and the turbine to rotate at high speed, the turbine and screen formed the crushing force, and its compact structure. When the material enters the cavity from the hopper, the material entering the machine cavity is tightly rubbed and strongly impacted on the inner side of the blade of the turbine in the swirling airflow and grinding again in the gap between the blade and the grinding block, while the material is being broken and ground, the turbine sucks in a lot of air. These gases act to cool the machine, grind the material and transport the fines.
The fineness of material pulverization depends on the nature of the material and the size of the screen. And the throughput of materials and air. The bearing part of the crusher is equipped with a special labyrinth seal, which can effectively prevent dust from entering the bearing cavity, extending the service life of the bearing, two rubber sealing rings are installed in the door, no dust leakage and polluting the operating environment.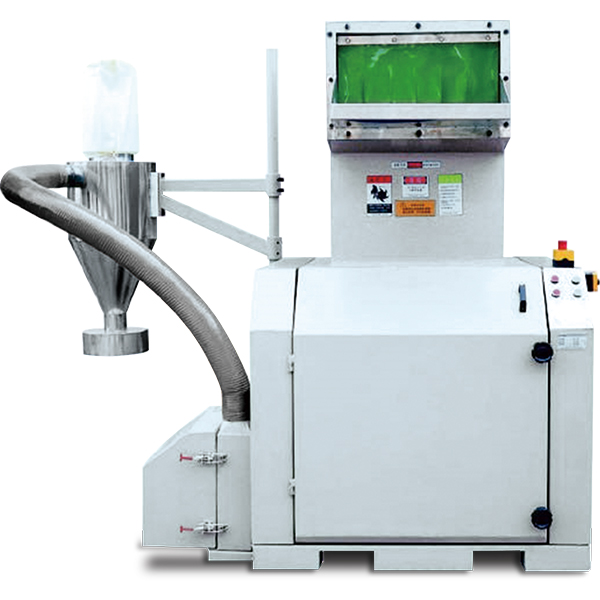 Features
Built-in soundproof cover:Guaranteed noise reduction during use, unique tool design and easy tool change.
Easy tool installation
Tool adjustment using an adjustment frame, the entire process of changing the knives is done outside the crusher.
Both fixed and rotary knives use high expansion strength steel, can re-sharpening multiple times
Unique cutting method:Rotor tools use the latest "V" cutting technology, compared to traditional tools "V" continuous cutting and pushing materials into the center of the rotor and reduces wear on the tool and the crushing chamber.
Mobile compact design:Built-in soundproof cover design makes the whole model very compact, can be moved, the entire machine can be lifted or moved with a forklift or other standard lifting equipment
Efficient feeding method:Unique rotor design for continue feeding, the crushingchamber will not block.
What do you think of our products? Welcome to contact us.
Contact Us