DRYING AND DEHUMIDIFYING EQUIPMENT
FCD Series Honeycomb Compact Dryer
Dehumidifying and drying: the honeycomb rotor is divided into a process, regeneration, and cooling zone by the casing structure and heat resistance air sealing. High moisture air is drawn into the honeycomb matrix of the rotor through the return air filter by the process blower. When the air is passing through the honeycomb matrix, moisture in the air is absorbed and dried air is discharged form the process outlet by the process blower. The rotor absorbed moisture is rotated into the process zone before it is saturated. At the same time, the cooling air is drawn from the counter side through the regeneration filter and is heated and enters the regeneration zone of the rotor and disturbs the moisture absorbed in the rotor and then is exhausted to the outside by a regeneration blower. This cycle of operation is continuously conducted.

Suction: material is conveyed from the storage tank or other storage containers. When the magnetic reed switch detects no material, suction motor runs to produce vacuum inside vacuum hopper. Raw material in storage tank is fed into hopper loader due to air pressure difference. When material suction completes, motor stops. Raw materials drop into drying hopper tank due to gravity. The dried raw material is taken out to the hopper with CV hopper loader installed on molding machine or otherhopper loader form hopper dryer.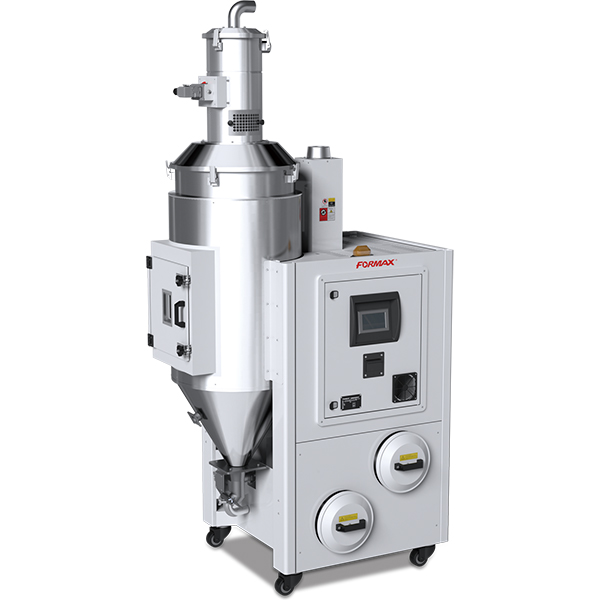 Features
Combine the function of dehumidifying, drying, and two stage conveying into a single unit.
Hot air recycler as standard for saving energy, no exhaust of hot air and dust, and environmental protection.
Shut-off suction box ensures no residue in pipe.
Heat preserved drying hopper adopts down blowpipe design to avoid of heat lost and improve drying efficiency.
Closed-loop device eliminates the risk of moisture re-absorption and prohibits the air flowing inside.
The honeycomb rotor service life is at least 6 years and can be cleaned by water.
Standard PID temperature control saves energy cost.
The multiple safety protection device.
What do you think of our products? Welcome to contact us.
Contact Us