GRANULATOR AND RECYCLING EQUIPMENT
FG Series Low Speed Crushers
Rotor with a specially designed tool, the unique shape of the rotor knives ensure its remains fixed after regrinding cutting interval, do not need to adjust the tool through a complicated process, thereby reducing the disassembly tool downtime. Rotor supported on two bearings,while the width of the rotor shaft according to the largest design, making it possible to shred massive objects. In addition, the ladder shaped rotor blade design allows the cutting tool, thereby increasing the cutting torque, with ladder shaped rotor arranged in V-shaped, so that it can be caught in the shredding room central broken material, this feature prevents the material posted on the wall in shredding room, while greatly increasing the shredding chamber wall in processing of glass fiber reinforced plastic products and when the wear resistance.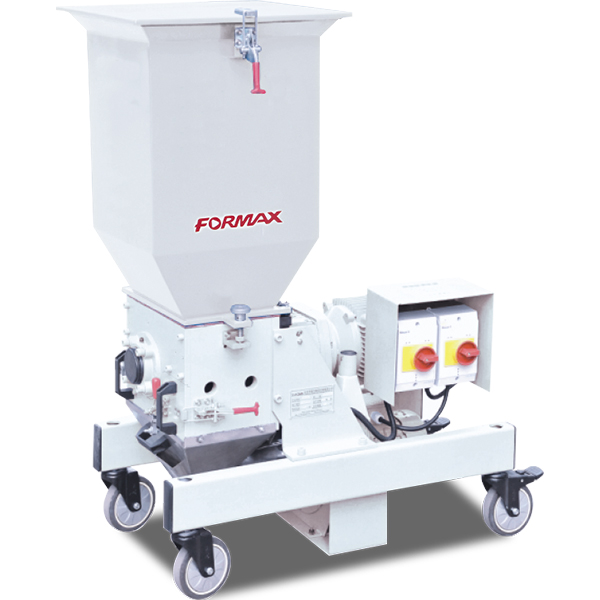 Features
Adapting claw type and file structure, distributed load, high cutting efficiency, with no adjustment tool holder design, reducing the disassembly tool downtime.
Slow rotation, design of sharp angled knife to help operating more smoothly.
Equipped with a knife holder, easy tool mounting adjustment technology, the movable knife and the fixed knife can be adjusted in the outer cutter holder, do not need to adjust the tool through a complicated process.
The gear motor drives the cutter shaft directly, elimi nate belt drive.
Crushing chamber design, can prevent the regrind material from leaking effectively.
The best cutting angle, low resistance, not easy to get stuck, Improve cutting efficiency.
Optimization design, can absorb the vibration.
Low speed crusher, the regrind particles are less dusty and uniform.
Low speed and sound proof box, can reduce the noise.
Easy to disassemble design, can save time during maintenance, easy to move with casters.
Highly safe operation design meets European safety standards.
Add magnet to the feed inlet of the feed bin, can adsorb iron scrap.
What do you think of our products? Welcome to contact us.
Contact Us