Dosing and Mixing Equipment
FGB Series Gravimetric Blender
When machine starts working, main hopper starts feeding on the basic calculation of set weight and unit time feeding and then load cell will starts work. Withing the error range, the machine will go to hopper 1, and then in succession hopper 2, until all the hoppers finish feeding. Afer feeding, materials will fall into the mixing chamber and be blended until reaching the time limit. Manually open the shut-off plate or auotmatically open the material contorl valve to let the matieral fall into the process machine or storage tank.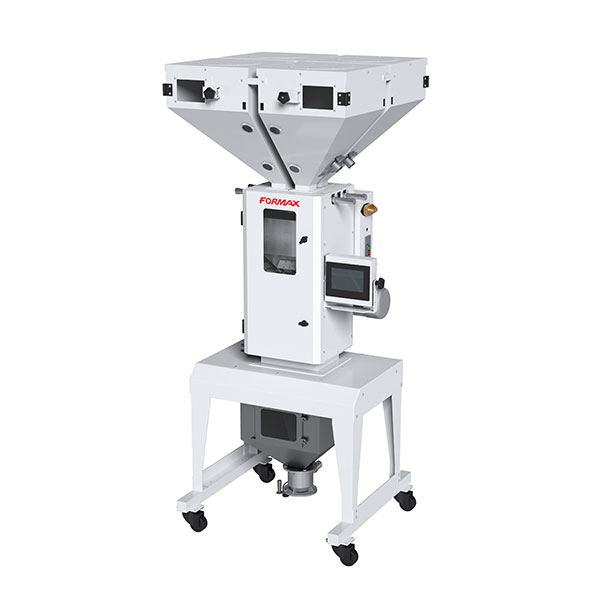 Features
Standard Configuration



The micro scale metering accuracy is ±0.1% when Call materials are blended through gravity.
Auto calibration functions which is performed every time after material weighting ensures best proportion-ing accuracy.
Up to 100 recipes can be stored for future use.
Include alarm history record function.
FGB-5 and models below are directly mounted on machines (incl. magnetic base).
For FGB-10 and models above, floor stand is the standard supply (equipped with floor stand, material storage tank, material control valve and suction box).
Adopt Ethernet communication function to realize online centrally monitor function.
Equipped with automatic suction control function.
Options



Hopper low material level sensor is optional for advance warning when lacking materials.
For mounting FGB-1/2/5 on the floor directly, the floor stand, material storage tank, material control valve and suction box should be equipped.
Optional micro screw metering for metering materials from 0.2% to 0.5%
Optional special material bridging breaker for film, sheet or irregular crushing and recycling
Optional USB data collection function can read actual additive proportion, output, all kindly of materials' total amount and output rate of every lot of virgin, regrind, master batch and additives.
What do you think of our products? Welcome to contact us.
Contact Us