HEATING AND COOLING EQUIPMENT
FMC Series FMC Oil Temperature Controller
High temperature oil returns to the machine and then be pressure by pump to the heater. After being heated, oil will be forced to mold and continue the circle. In the process, if the oil temperature is too high, the system will activate the solenoid valve to let cooling water cool down the temperature directly until the temperature is down to the system requirement. If the temperature keeps increasing and reaches to the set point of ultra high temperature, system will sound high pressure alarm and stop operation. When oil level is lower than standard value, oil level switch will send a signal of oil storage to launch low pressure alarm and machine stops.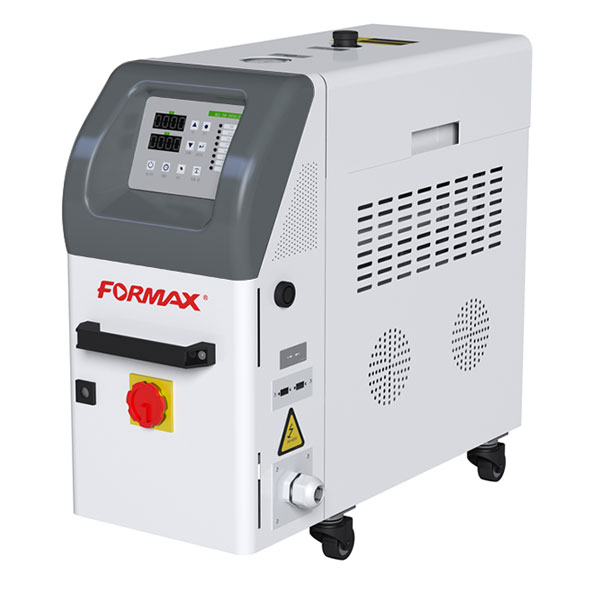 Features
PID temperature controller with digital display and actual temperature.
Reservation timer for 0.1~99.9 hours. The temperature unit (°C/°F) is changeable also.
Adopts high efficiency high temperature pump which can meet the demands of temperature control for precise molds and mold loop with minor diameter to achieve precise temperature control and high efficiency heat exchange.
Safety devices include power reverse phase protection, pump overload protection, overheat protection, low level sensor, and media shortage alarm that can automatically detect abnormal situation and alarm via buzzer.
The control box and mechanical are designed in isolation, so the life of circuit is extended also.
Heater is made of stainless steel.
For standard FMC the heating temperature can reach 200°C, while FOH can reach 300°C.
FOH is equipped with magnetic pump and the internal structure is stainless steel for explosion-proof.
Equipped RS485 to realize central monitoring online.
What do you think of our products? Welcome to contact us.
Contact Us